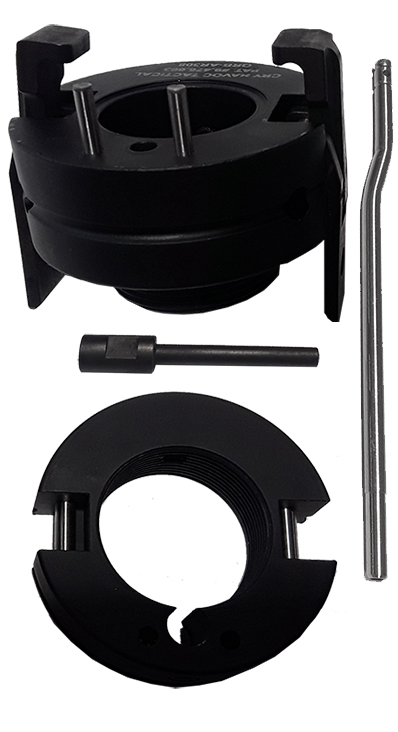 This item is currently out of stock.
308 QRB Kit Starting at $425
Includes Barrel Plate, Receiver Plate, Gas Extension and Gas Tube.
Now for your 308 or 6.5 Creedmoor. Have your large caliber with you at all times. The "Big Boy" QRB allows you to remove the barrel of your DPMS/SR25 Style rifle or pistol quickly. NO drilling or modifications needed!
Able to take along your AR308 style rifle in a small package.
Assemble converted rifle in seconds, even in total darkness.
Easily convert to multiple calibers - like 308 NATO to 6.5 Creedmoor.
Holds within 1 MOA of original rifle.
Easy install; Can be done without special tools if on a new install. No permanent modifications.
Proudly made in the USA - that means something to us.
Click here to download PDF assembly instructions
Now you can have The Ultimate Take Down Rifle! Our Patented 308 QRB System is designed to work on YOUR gas impingement DPMS/SR25 style rifle with a Free Float Hand Guard system 2.2" wide or less and will add 1.7" to the length of the Hand Guard. Now the Rifle System can break down to just the length of the barrel - meaning a 16" 308 Carbine becomes 2 pieces under 17" total - WITHOUT the worry of a full size gas tube protruding beyond the barrel end - just waiting to be damaged!! Other possibilities available are the ability to do a 12.5" pistol with a LAW Tactical folding "stabilizer" and have a 13" 308 Package Pistol capable of firing 150 grain bullets at 2450 fps. Hard to match that with a 300 Blackout firing a 150 grain out a 16"+ barrel. This IS compact firepower!!! Watch your eyebrows! United States Patent # 6829855